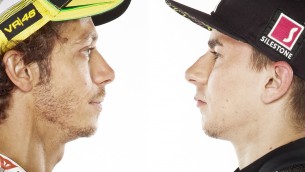 M
enurut Lin Jarvis selaku director dari Yamaha Factory Racing rossi akan kembali ke yamaha pada musim moto gp 2013 dan 2014 yang akan datang lalu apakah akan kembalinya the doctor ke yamaha akan kembali pula sklill dari the doctor yang tenggelam bersama ducati?
sesuai dengan rilis dari yamaha yang dikutip dari moto gp.com bahwa rossi akhirnya telah mengambil keputusan untuk kembali kedalam yamaha walaupun ditempatkan sebagai pembalap ke-2,akan teapi dengan kedatangan rossi diyamaha akan mengembalikan performa rossi yang makin redup di ducati.berikut ini berita dari rossi kembali ke yamaha:
Valentino Rossi first joined Yamaha in 2004 and achieved four MotoGP World Champion titles with the Yamaha YZR-M1 in 2004 & 2005 and again in 2008 & 2009. He won 46 Grand Prix races with Yamaha over a 7-year period before leaving at the end of the 2010 MotoGP season.
Rossi, who is presently 8th in the Championship standings, will partner Jorge Lorenzo who currently leads the 2012 MotoGP World Championship by 23 points, having taken five victories from the first ten completed races of the 18 race series.
Lin Jarvis, Managing Director, Yamaha Motor Racing
"This announcement is once again excellent news for Yamaha. In June we were able to sign Jorge Lorenzo for the 2013-14 campaign and now we are able to confirm Valentino Rossi for the next two years. In doing so we have been able to put together the strongest possible team to challenge for victories and to promote the Yamaha brand.

We have run this 'super team' together in 2008, 2009 and 2010 and during that time we achieved the 'triple crown' titles with Rider, Manufacturer and Team World Championship victories for three consecutive years.

The target for the future is obvious and we will do our utmost to achieve our goals.

I have no doubt that with the experience, knowledge, skills and speed of these two great champion riders we will be able to challenge for many race wins and for the 2013 & 2014 World Championship titles.

The signing of Valentino completes our future planning for the Yamaha Factory Racing MotoGP Team. Now that this is done we will put our 100% efforts into completing the job at hand and to supporting Ben Spies and Jorge Lorenzo in their search for race victories and for Jorge's 2012 World Championship title challenge."
Press release courtesy of Yamaha Factory Racing.
moto gp.com
ini yang penting gan:
Yamaha Motor Racing has confirmed the signing of Valentino Rossi to ride for the Yamaha Factory Racing MotoGP Team for 2013 and 2014.
Jadi kita tunggu saja apakah the doctor sudah bisa kembali ke yamaha dengan gelar yang ada didepan mata meskipun harus berhadapan dengan lorenzo yang tidak lain adalah rekan setimnya?ataukah rossi ada pilihan yang lain yang kita tidak tahu,who knows?kita tunggu saja.